A Bitter Taste of Sweet Oblivion by Jordan Castillo Price
On April 21, 2015 Jordan released
A Bitter Taste of Sweet Oblivion
Ebook Box Set, which includes novelettes 6-10 from the Channeling Morpheus series. and correlates to the second paperback. The novelettes in order are
Brazen, Snare, Fluid, Swarm, Elixir. Jordan
is also releasing a new Channeling Morpheus short,
Canine
. The release follows the release of Channeling Morpheus for Scary Mary which contains novelettes 1-5. One of my favourite aspects of the whole series besides the fantastic stories is the cover art. It is incredibly sexy, and just draws the reader in. Be careful, you might need to keep a fan handy in order to cool yourself down whilst reading.
A Bitter Taste of Sweet Oblivion Blurb
Staking a vampire isn't so easy now that Michael's got a vampire of his very own. Although killing them is no longer an option, he's as determined as ever to stop the spread of vampirism.

Wild Bill is a lover, not a fighter--so he's tickled when Michael's new agenda, to dispense condoms and sterile phlebotomy gear among vampires, replaces the old "heads will roll" approach.

It takes courage to track down vamps in their own territory and deliver a lecture on safe sex, and more importantly, safe bloodletting. Michael's never been short on audacity...but he's finding that he and Wild Bill aren't the only ones with agendas.
Gritty, urban vampire tales.
These novelette-length stories are scary as hell and packed with freaky sex. Michael is a waif in eyeliner who's determined to wipe vampires off the face of the earth. Wild Bill's got his eye on Michael, and he's willing to do anything to go home with him. If the romance between Gomez & Morticia gives you goosebumps of delight, if you look forward to Halloween movie marathons all year long, if you've got a soft spot for fake fog and black lights, then Channeling Morpheus is the series for you!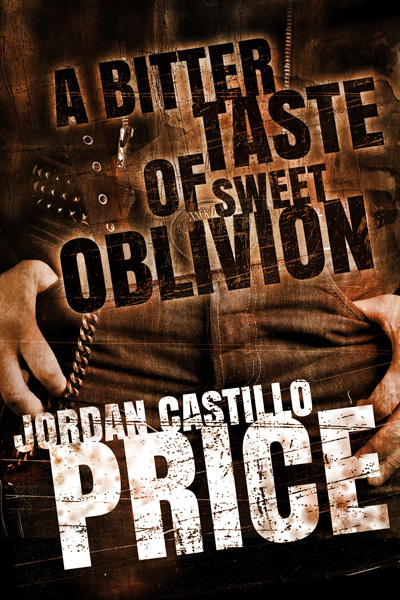 A Bitter Taste of Sweet Oblivion Teaser
A glimpse inside the novelettes.
The lit end of Bill's cigarette flared orange-red as he inhaled, and the shape of his cheek and brow showed briefly, then receded into darkness again. I found the light, finally, and flipped it on.

Wild Bill was naked. Lying in bed. Smoking. Naked. He smirked when I got an eyeful of him, and teased one fang with the tip of his tongue, and glanced at the mini-mart bag. "I totally dig it when you pamper me."
Author Bio
Author and artist Jordan Castillo Price writes paranormal sci-fi thrillers colored by her time in the midwest, from inner city Chicago, to rural small town Wisconsin, to liberal Madison. Her influences include Ouija boards, Return of the Living Dead, "light as a feather, stiff as a board," and boys in eyeliner.

Jordan is best known as the author of the PsyCop series, an unfolding tale of paranormal mystery and suspense starring Victor Bayne, a gay medium who's plagued by ghostly visitations. Also check out her new series, Mnevermind, where memories are made...one client at a time.
Author Contact Info
Jordan Castillo Price monthly newsletter
Jordan's LJ Blog
Jordan on Facebook
Jordan's official Amazon page
A Bitter Taste of Sweet Oblivion is a wonderful addition to the Channeling Morpheus series. It's so handy to have all the novelettes in one set. If you haven't read the start of the series then check out Chapter #1 of Payback which is available on Jordan's website. Don't forget your fan!!!!