Review: The Greatcoats series by Sebastien de Castell
Want to read a swashbuckling adventure? An adventure where our heroes escape from one impossible situation after another? Where anything is possible if you know how to use a sword, a rapier, or a bow and arrow? Then this series might just be for you. Join our three heroes Falcio, Kest and Brasti as they try to save the world! After all three men can surely save a kingdom, can't they?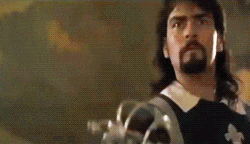 www.giphy.com
After the jump a brief, non spoilery look at the Greatcoats series by Sebastien de Castell.
www.goodreads.com
Our three heroes are known Greatcoats or Trattari. Let me introduce Falcio, the esteemed First Cantor of the Greatcoats, his companions Kest, renowned swordsman and Brasti, deadly with a bow and arrow! Destined to administer law and pass judgment amongst the people. However it seems that the the ducal members of society aren't too happy about judgments being past. It's not spoiler to say the King Paelis is murdered and it's up to the Greatcoats to continue his legacy or become dust. Forever forgotten in the pages of history. King Paelis has given each of the Greatcoats a secret assignment. Whether they can complete their missions is another story.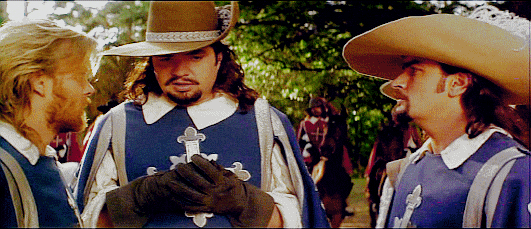 www.giphy.com
Yes this series is swashbuckling at it's finest. There is a real Three Musketeers vibe occurring. But it's part of the humour of the series that keeps the reader engaged. Falcio is an idealist. At least when thinking in terms of King Paelis and his vision for the kingdom. Kest and Brasti are his reality checks. Even if Falcio seems adverse to seeing reality. It's the relationship and friendship between the three men that is the glue holding the series together. They would do anything for each other. Kest and Brasti follow Falcio, even when the odds seem stacked against them. They would do anything for Falcio.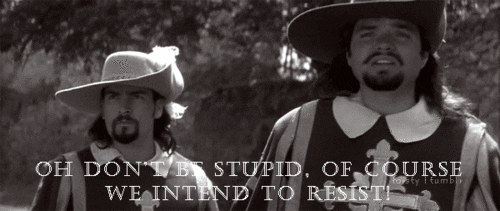 www.giphy.com
Sebastien de Castell has also mastered the art of writing amazing female characters. I can't name names because hello spoiler issues. In this world the females have just as equal footing as the men. They can rule dukedoms, they can fight, and be just as lethal as any man. Whether they are an assassin or a ruler. It's the strength of the female characters that helps to elevate this series above other more male dominated fantasy. And get this, I'm saying this when the three leads are males. The female characters really come into their own in Knight's Shadow (Greatcoats #2) . It's well worth the wait as many characters move on from where they were in Traitor's Blade (Greatcoats #1).
www.pinterest.com
Falcio val Mond is our narrator through the series to date. I'm dying to have Kest or Brasti do some narration, but unsure if that will happen. Falcio is the leader. He makes the plans for better or worse. Hence our heroes battle through impossible situations to ultimately survive the day. We read Falcio trying to save people that sometimes we think it would have been better to eliminate them, for they come back to haunt Falcio later on. But without his valour, Falcio wouldn't be the man he is.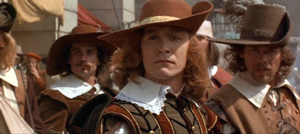 www.giphy.com
Make sure when you pick up this series that you suspend belief and just enjoy the ride. For there will be treachery along the way and unexpected twists. The ending of Traitor's Blade made me hungry to know what was going to occur next. Knight's Shadow had plenty of reveals at the end, but also tied up a few plot ends. It's that type of series that makes you laugh one moment and in the next moment you look up searchingly asking yourself. "That did not just happen!"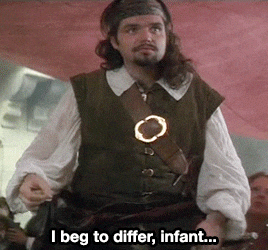 www.giphy.com
I enjoyed Traitor's Blade more than Knight's Shadow, but I can't wait to see where the next book Saint's Blood takes our characters. Due out in June 2016.
Rating for both books combined.
Have you read any swashbuckling fantasy series that you enjoyed?