The Ten Books Gathering Dust on my To Be Read List.
I was going to call the below post a Top Ten List. However when I pondered calling it a Top Ten List, it didn't really make sense to me. The list of books have just been sitting there on my To Be Read (TBR) list waiting for me to read them. Languishing there waiting for me to give them a crack. Unfortunately you might find the reasons they are neglected very mundane. I'll get to them one day!
Let's dive in a see what I'm not reading that I intended to one day.
1. Smoke and Mirrors by Neil Gaiman.
I loved American Gods, Anansi Boys and Neverwhere. Then I stopped. I really do want to read Smoke and Mirrors one day. Plus this is a book of short stories. You would think I could pace myself through it.
2. The Pillars of the Earth by Ken Follet
I own The Pillars of the Earth. Recommended to me a couple of years ago now. I'm probably daunted by it's size. Coming in at 973 pages you're talking a major time commitment. Especially given I told myself I was going to do A Song of Ice and Fire reread. In 9 months I've only managed to read book one, A Game of Thrones, again. I will get to The Pillars of the Earth. Eventually. Maybe I need it to fit the book into a challenge category on Goodreads at some point.
3. Stardust by Neil Gaiman
I did attempt Stardust. Unfortunately I can't have been the mood for it as I had to put it aside. Stardust remains on my TBR as I do intended to read it one day. I think I need a push from Wench Zee! She is the biggest Neil Gaiman fan I know.
4. Middlemarch by George Elliot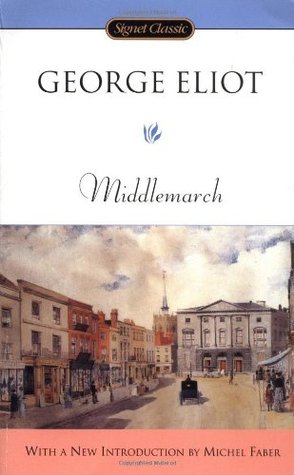 Middlemarch is on my TBR as I've always thought I would want to read it. I keep putting it off, so it sits on my TBR waiting to be picked up again. Another long book at 907 pages as well. Maybe if I didn't know the length of it I would have started it by now. The book might just be one to read in my retirement!
5. The Greyfriar (Vampire Empire #1) by Clay and Susan Griffith
The Greyfriar was a book club read back in 2013, that I didn't get a chance to read in time. I love the cover. Hence one of the reasons it stayed on my TBR. Yes, I can still be attracted to a book by it's cover. Unfortunately steampunk and I don't often seem to connect. I think it partly comes from having read a lot of historical novels, that it feels odd to me adding elements that wouldn't have existed in the time period. Perhaps I haven't read the right steampunk book. It's probably put me off attempting this book presently.
6. Blood Destiny (Blood Curse #1) by Tessa Dawn
I added Blood Destiny to my TBR due to a friend's review. I've been a bit put off vampires due to previous book series. Blood Destiny does still sound like an interesting read and I'm hoping to get to it at some point. I can't recall very many books I've read with vampires in them since The Book That Shall Not Be Named hit my reading landscape and forever altered it.
7. The Winds of Winter (A Song of Ice and Fire #6) by George R.R. Martin.
Awaiting publication. Enough said.
8. Dangerous Women (Anthology)
Dangerous Women is another book I own that is an incomplete read. I've read read 5 out of 22 short stories. I keep it on my TBR to remind myself that I do need to read the rest of the stories at some point. Of course I purchased it primarily to read
"The Princess and the Queen" by George R.R. Martin - A Song of Ice and Fire story.
9. Company of Liars by Karen Maitland
I'm an historical novel fan and the description for Company of Liars caught my eye. From Goodreads.
The year is 1348. The Black Plague grips the country. In a world ruled by faith and fear, nine desperate strangers, brought together by chance, attempt to outrun the certain death that is running inexorably toward them.
Each member of this motley company has a story to tell. From Camelot, the relic-seller who will become the group's leader, to Cygnus, the one-armed storyteller . . . from the strange, silent child called Narigorm to a painter and his pregnant wife, each has a secret. None is what they seem. And one among them conceals the darkest secret of all--propelling these liars to a destiny they never saw coming.
I'm now thinking to myself why have I put this one off so long?
10. Empire in Black and Gold (Shadows of the Apt #1) by Adrian Tchaikovsky
Surprisingly number 10 Empire of Black and Gold I think I will actually get read this year as it fits in with the A-Z Fantasy Challenge I'm doing. Although my progress isn't the best on the reading challenge. I keep getting distracted by other books or want to read too many fantasy authors whose surnames end in M, S, or C. This book was initially recommended to me via the Goodreads Recommendations based on similar books I had read. Plus I have a weakness for fantasy book covers that have a hooded figure on them.
9 out of 10 of these books won't get read this year. That being said I did read the oldest book on my TBR this year as it was a book challenge requirement.
Which was
Grave Witch
by Kalayna Price, so maybe I am making some progress.
You can find the challenge
here
. It's a great way to read some books that might not normally appear on your radar.
What books are sitting on your TBR waiting for you to read them? Let me know some of the book titles you keep meaning to read, but haven't quite found the energy to pick them up.
All book images from www.goodreads.com