Review: The Visitor (Graveyard Queen #4) by Amanda Stevens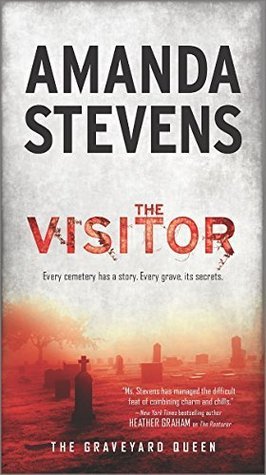 The Visitor is the best book in Graveyard Queen series to date. It was full of suspense, mystery and surprises. Amelia Grey continues to be a heroine who will seek out answers. No matter what the cost. This series is one of those gems that you wish more people were reading. It provides that kind of tension that ensnares the reader so they don't know what is going to happen next. Often I was waiting with baited breath to see what would happen next. It's also probably the fastest I've read a book all year. I just couldn't stop myself from turning the pages. The Visitor is a very welcomed addition to the series.
The series can't be read as a standalone. You need to know what events have occurred in the previous books to understand the present. I appreciate it when an author knows that the majority of their readers have already read the previous books and therefore don't need to much recapping.
Spoilers for previous books after the jump.
My name is Amelia Gray. I'm the Graveyard Queen.

Restoring lost and abandoned cemeteries is my profession, but I'm starting to believe that my true calling is deciphering the riddles of the dead. Legend has it that Kroll Cemetery is a puzzle no one has ever been able to solve. For over half a century, the answer has remained hidden within the strange headstone inscriptions and intricate engravings. Because uncovering the mystery of that tiny, remote graveyard may come at a terrible price.

Years after their mass death, Ezra Kroll's disciples lie unquiet, their tormented souls trapped within the walls of Kroll Cemetery, waiting to be released by someone strong and clever enough to solve the puzzle. For whatever reason, I'm being summoned to that graveyard by both the living and the dead. Every lead I follow, every clue I unravel brings me closer to an unlikely killer and to a destiny that will threaten my sanity and a future with my love, John Devlin.
Once again we are drawn into Amelia's world and yet it's a world where everything is not right. Amelia and Devlin are keeping secrets from each other. Secrets that threaten to tear them apart. Their passion for each other continues to connect them strongly, but how long can passion hold you together when your secrets may threaten your very existence? You almost want to shake the characters and tell them to fess up, but there is a distrust there. Neither Amelia nor Devlin trust the other 100%.
Amanda Stevens deftly pulls us into the scenery of her books. The atmospheric writing is both creepy and beautiful. Even when you are a teeny bit scared for Amelia while you are reading, you can't help but be captivated by Charleston, USA. You can smell the scents of the places the characters are. Whether it's a basement, a bedroom or a graveyard. The characters Amelia encounters are all holding secrets and it's up to Amelia to see if she can uncover them. This is one of the strengths of Amelia's character. She isn't afraid to dig into the past to uncover secrets and unveil the truth. Steven's skilfully pulls us along as the layers of the story are revealed.
Stevens is able to weave Amelia's family history with the current mystery to be solved. Who murdered the people at Kroll Cemetery? How does their murder tie into Amelia's family?
My rating was a solid 5/5. This is as series that if you haven't started it's well worth checking out.
The reveals about Amelia's past were very satisfying as a reader and I can't wait to read the next book.
Stevens answers many questions you might have had from previous books, but adds more to leave the reader guessing what direct the next book will take. My biggest questions now are -What the hell is the Coffin and Claw? What do they do? What threat are they to Amelia? After the ending I'm curious, yet apprehensive for what is to come.