Fangirl Friday: Audio Books
​You may have noticed from our What the Wenches are Reading posts that I do a lot of my reading in audio book format. I have a somewhat long commute, 45 minutes each way,
assuming there isn't traffic. So, after I tired of my exhaustive collection of Broadway musical soundtracks, I turned to audio books. I've listened to audio books before, usually on road trips, but I didn't realize how much reading I could get done this way. It was an unexpected gift from me to me. So, for the Anne edition of Fangirl Friday, I'm going to gush a little bit more on my love of audio books.
Keep reading after the break!​
If you've never listened to an audio book before, let me explain a little how the narration works. Generally speaking, you are going to have one narrator that is going to be reading the whole time. There are a few exceptions to this rule. Gillian Flynn's Gone Girl and the Divergent series, for example, used a male and female narrator to perform the alternating
points of view. But, it is NOT like a movie or play where you will have two different people talking to each other. Even with books that use multiple narrators, it is still only one at a time performing whatever voices are needed for their portion of the book.
My favorite narrator to date is Jim Dale who narrates the
Harry Potter
books. He is In. Credible. He has actually won two Grammy awards for his work on that series. He also, at
one point, held the record for the most voices created and used for an audio book for
Order of the Phoenix
. He's since been supplanted by Roy Dotrice, who narrates some of the
ASOIAF
series, for that record. But, if you are a fan of Harry Potter and want to get into audio books, he is the way to go. Stephen Fry, the comedian/actor, also does a version. But, as much as I love him in other things, I don't like his reading of the female characters. Hermoine, especially, sounded very high pitched and overly exaggerated.
I find I tend to prefer male narrators to female. I think it's because male voices are able to achieve a greater range of octaves and, therefore, have a little more variety in the characters. I will say, though, that the woman who narrates the
Outlander
series, Davina Porter, is doing a great job. I have really enjoyed her so far. I especially enjoy the voice and accent she uses for Jamie, which brings me to the main reason I love audio books.
I used to think that only massive releases and bestsellers got the audio book treatment. But, I was wrong. TONS of books have audio versions. So, I've been using my audio book time as a time to read the books I always said I'd read but haven't actually made the time for. Using this method, I've gone through the entire A Song of Ice and Fire series, Harry Potter (which I had read before), Burned by the lovely Karen
Marie Moning, and most recently, I've been making my way through the
Outlander
books. There are others, of course, that I haven't mentioned. But, you get the idea. It gives me the opportunity to read a lot of things I probably would not have read otherwise, for example,
The Book Thief
. My parents have been on my case to read that book since the movie came out in 2013. They even bought me a copy of it. But, it wasn't a priority, so I didn't read it. Then, I started on my audio book kick and decided maybe this was the perfect avenue to finally get this book read. It was; and I enjoyed the book very much.
You see, I'm a captive audience in the car. I can't get bored and switch to reading something
else, I can't just put it down and do something else, etc. So, especially in exposition heavy books, like
The Book Thief
and
Outlander
and
ASOIAF
, I can't get bored and abandon it. That's what was happening when I was trying to actually read things. I'd get bored or distracted and realize I hadn't read anything at all or I hadn't retained what I did read. But, with audio books, I am just driving. So, I have nothing else to focus on. I can't get up and do dishes or watch TV or anything. And, I listen on my commute. So, it's not like I have nice scenery to look at. It's the same stuff I've been passing every day for three years. Nothing has changed. And, since I work until anywhere between 9pm & 11pm, usually, there's nothing to see but headlights anyway.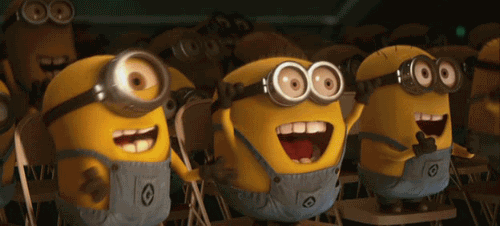 The other reason I have grown to love audio books so much is not as concrete. I'm not sure if I've ever mentioned this on here before, but, I have a degree in theatre. I still work in the arts, but I really REALLY miss working in live theatre. Audio books take me back to my
theatre roots in a sense. It's not quite live performance. But, at their core, audio books are a performer using his talents to make a story come to life. It reminds me of the two summers I spent working for the Illinois Shakespeare Festival. It is a repertory company. So, each summer they perform 3-4 productions using the same company of actors. So, you see the cast bring to life at least two and sometimes upwards of 10 characters to life, using different voices, accents, postures, movements, etc. It is an amazing thing to watch, especially from my backstage seat from the first day of rehearsal to the last day of performances. So, I guess you could say that, in a way, audio books bring my past back and help me to remember some of the best experiences of my life.
I can't get through this piece without mentioning my husband, who turned me on to audio books to begin with. We make at least one trip a year to his parents' house in upstate New York. Sometimes we fly, but more often than not, we drive because either we have our dog
with us, or we are bringing back something from their house, furniture, childhood mementos, air conditioning units, etc. So, one year, he suggested we listen to audio books on those drives, since it is 14+ hours each way. The first one we listened to was, I believe,
Harry Potter and the Half-Blood Prince
. We had both read it before this, but I think it was right before
Deathly Hallows
was to be released, since we usually go out around the Fourth of July. Anyway, that was the first one we listened to and we've listened to a bunch of others since then, including our trip this year. This year was Gillian Flynn's first two novels,
Sharp Objects
and
Dark Places
. We both enjoyed them, though we agreed that
Dark Places
was better.
Well, readers, that's about all I've got to say about audio books. Do you listen to audio books or are you strictly a regular book reader? Tell me all about it in the comments!
**All gifs come from Tumblr