Comfort Reading
What do you consider to be "comfort food?" Maybe yours is mac & cheese, meatloaf or a tuna sandwich, like me. Whatever it is, it's what you go to when you need to feel warm, safe and comforted. Memories of home, family and friends are often tied to food because we experience them together.
Sometimes books feel the same way--comforting and satisfying. Come with me through the jump and I'll tell you about one of my comforting book series.
Recently, I've had some difficult family situations come up. I come from a large family, and sometimes multiple family members are having problems at the same time. The relatives in my parent's generation are mostly long lived, and my parents are still happily puttering around. This means I'm seeing a lot of senior moments these days. Watching your parents, aunts and uncles grow old is kind of sad, to tell the truth. They develop many ailments, aches and pains. When serious illness, such as cancer, or dementia are diagnosed, it is hard to watch their vitality slip away. I'm thankful to still have them around, of course, and I love them dearly. My parents used to throw many dinner parties when we were young, and we would watch from the top of the stairs, long after we were supposed to be asleep. Most of these guests have passed away.
A limb has fallen from the family tree.
I keep hearing a voice that says, "Grieve not for me.
Remember the best times, the laughter, the song.
The good life I lived while I was strong.
Continue my heritage, I'm counting on you.
Keep smiling and surely the sun will shine through.
My mind is at ease, my soul is at rest.
Remembering all, how I truly was blessed.
Continue traditions, no matter how small.
Go on with your life, don't worry about falls
I miss you all dearly, so keep up your chin.
Until the day comes we're together again

.
- Author unknown -
A few weeks ago, my aunt lost her battle with cancer. She was surrounded by her loved ones, so I hope she felt comforted at the end. My 87 year old father is the second of nine children, and five are still living. I was just thinking about that after I got the news of my aunt's death. In spite of the fact that I come from a large extended family, there have been relatively few deaths so far.
"The meaning of life "assuming there is one . . .) is the glue we use to join events, trying to fill the cracks in hopes the whole of it will make sense."
Books can provide comfort, just like our favorite foods can. I needed some comfort this week, and thought about what to read. One of my favorite book series from years ago is Sue Grafton's alphabet series. When my children were small, we would make regular trips to the library. Once I discovered private investigator Kinsey Millhone, I eagerly snapped up each one in turn. I've always enjoyed the mystery genre, but I took a break from it once I discovered the world of paranormal/urban fantasy.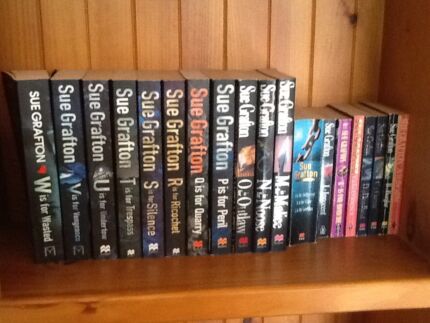 Kinsey Millhone is one of my very favorite protagonists. After losing her parents in a car accident when she was five years old, she went to live with her Aunt Gin, a pragmatic and independent woman. She fostered these qualities in Kinsey, which have served her well in her adult life. After a brief stint in the police department, she became a private investigator. Her intelligence, quick-thinking and stubbornness are balanced by her early-morning runs, lack of patience and love of chardonnay. She has a close friendship with her 88 year old landlord, Henry, a retired baker. Their mutual respect and caring is one of my favorite things about the series. He provides support, advice and delicious baked goods to Kinsey on a regular basis.
"He slapped his knees decisively and got up. 'I have the solution. You come with me. This calls for a pan of brownies.' And that's when I burst into tears."
W is for Wasted was released in 2013. I needed to spend some time with Kinsey and Henry, so I quickly found it on iBooks and began reading within minutes. It was a great choice.
"Two dead men changed the course of my life that fall. One of them I knew and the other I'd never laid eyes on until I saw him in the morgue."
Zing! I was instantly captivated with the story. W is for Wasted follows several plotlines. A homeless man is found dead on the beach with Kinsey's name and phone number in his pocket. A shady private investigator is the victim of foul play. Since business is slow, and she's curious by nature, she begins to look into these deaths. New characters Pearl, Dancy and Felix are introduced when she visits the beach where the homeless man died. An unexpected windfall has left her reeling. An old boyfriend comes to visit, but things don't go as well as hoped. After years of considering Henry her only "family," she travels to meet some distant relatives to deliver some bad news. When a friend is stiffed for payment on a job, she uncovers another mystery to solve. Invariably, at least one of these stones has a snake underneath it.
"Every good mystery takes place on three planes - what really happened; what appears to have happened; and how the sleuth, amateur or professional (yours truly in this case), figures out which is which."
Now that I'm all up to date with Kinsey, I'm looking forward to the newest installment, X, which will be released August 25, 2015. With only three books left, I'm hoping she gets all she deserves.
The next time you're in need of some comfort or quiet reflection, why not pick up one of your favorite books and spend time with some old friends.