Madam of Espionage Series by Carol K. Carr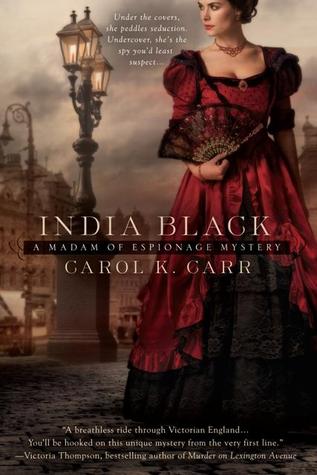 India Black is the Madam of Lotus House. She would be as far removed from an agent of the British Government as one would expect. But what better trade in which to delve for information from punters or potential suspects? The series is set in Victorian England and as you can imagine it can be a pretty grim place at times. Carol K. Carr weaves a wonderful mystery where the ending isn't quite as clear cut as you would expect and with plenty of humour in the mix. I've enjoyed each book. I just wish more people were reading them. They are wonderful escapism and India Black a delightful heroine. So if you have never heard of The Madam of Espionage series, I recommend you give it a go.
India Black is a teeny bit bored being just a Madam. Her business is successful and keeping the bints in line, plus the punters happy occupies her days. However this is all upended when Sir Archibald Latham dies of a heart attack while visiting her brothel. It brings India into contact with an agent of the Government. An agent for a very long time, we seem to only know by the name of French. Whilst he keeps his secrets close to his chest, they become invaluable partners. India's pigheadedness may have a little bit to do with it. But her Government needs her and India won't let them down. Plus it's always handy to know how to use a Bulldog.
India's weapon of choice.
The books are told from India Black's point of view. The other two main characters are French and Vincent. French is already an agent of the Government and initially he isn't above using India for his own ends to solve a case. Vincent is the street urchin who French takes a liking to. Of course on Vincent's part there might be a little bit of hero worship. Given that Vincent lives on the streets and seems to run his own gang of urchins, it is humorous that India loves trying to protect her furniture from him. You might not be able to see Vincent but you might just be able to smell him a mile away.
In the background is the decline of the Ottoman Empire and the push of Russia to increase its influence in the vacuum which is left. The prime minister of England at the time is Benjamin Disraeli and he features through the novels. His hatred of Russia is clear. It doesn't help that Russian agents feature in a couple of the novels. They are so dastardly. At least in Disraeli's mind. Plus they keep snooping around London and it's surrounds.
What helps to raise this book series above the crowd of books for me is the humour. Carr has created a wonderful cast of characters and this proves to be the real essence to her series. At least for this reader. That's not to say the books aren't fast paced mysteries. They are. I like nothing better than characters traipsing around trying to solve a mystery. However it's been the humour which makes me come back for another serving. My favourite book in the series has to be India Black and the Widow of Windsor (#2). It introduces the fabulous character of the Marchioness and India takes on the role of being a servant. I wouldn't say India Black is a model servant as she keeps disappearing trying to uncover a plot against the Queen. India does become a master at stopping exploding sneezing from the partaking of snuff. It made me laugh out numerous times. The banter between the Marchioness and India was also amusing. There was a real warmth between the characters and any book that makes me laugh out loud gets a big tick.
Books in the Madam of Espionage series.
India Black and the Rajah's Ruby (0.5)
India Black (1)
India Black and the Widow of Windsor (2)
India Black and the Shadows of Anarchy (3)
India Black in the City of Light (3.5)
India Black and the Gentleman Thief (4)
If you are looking for a mystery series with humour and plenty of action then give India Black a try. You might be surprised how much you enjoy it.
Let me know of any great mystery series you have discovered that are not well known.