Fangirl Friday: My five star reads of 2015
I thought what better idea for a Fangirl Friday than to talk about my favourite reads of 2015. It's that time of year where lists are compiled and I have a few clear favourites from my year of reading. It was an accomplishment for me in that I'm now officially up to date with the Outlander Series. I'm delighted as it's only taken me a couple of years and has been very rewarding. Thanks Kathi! Only four books made the five star cut for me this year. Whilst there were plenty of books that made it to four stars, they didn't quite rock my world like the books below.


House Immortal (House Immortal #1) by Devon Monk.
Sometimes you read a book with absolutely no expectations and are so happy about how wonderful it was. This is one of those books! Two of my wonderful bookie friends had read House Immortal and their awesome reviews meant I had to read it. Just goes to show friend reviews can give you the impetus to pick it up a new book or series. I was so glad that I did.

Matilda Case was everything a heroine should be in urban fantasy / sci fi. She can kick ass. Knows how to kill things and due to some alterations that have been made to her, she is about to become a target for a World that is no longer ruled by Governments, but ruled by Corporations. The Corporations are all under House Colours. House Grey through to House Brown and each House controls a different aspect of humanity. From agriculture to human resources. It's a world very different to our own, and yet still recognisable as Earth.

The alterations which have been made to Matilda will make her a very valuable commodity in the battle to come. After all when you have lived in secrecy for so long, it's only a matter of time before you are discovered.
I thoroughly enjoyed this whole series. Whilst the final book was a little bit cheesy for me, the world building of Devon Monk is something I really enjoy. She is able to vividly bring to life the atmosphere and scenery of this new world. If you want to try a new urban fantasy author I give Devon Monk's work a big thumbs up. I can't get enough of what she writes.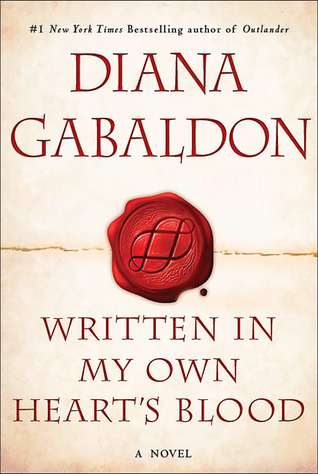 Written In My Own Heart's Blood (Outlander #8) by Diana Gabaldon.
Written In My Own Heart's Blood had those elements I love about my favourite Outlander books. It was action packed from start to finish. Jamie Fraser lives! Claire Fraser has two husbands and there are plenty of surprises and reveals along the way. In the background are the vibrations of Revolution. Diana Gabaldon continues to weave her magic and this reader was completely entertained. Yes it is a long book, but it's well worth reading once you have read the other 7 books.
I thought the ending of this book was just perfect. I wouldn't have even minded if this had been the last book in the series either. Sure there would have still been a couple of loose ends to tie up, but like I said it wouldn't matter to me. The essential characters for me, Jamie, Claire, Ian, Brianna and Roger were in the right place. What more could you ask for?
Stone Cold (Broken Magic #2) by Devon Monk.
Yes two Devon Monk books got the five star treatment by me in 2015! See. You have to give her work a try if you haven't already! It could be that Shamus Flynn just has that bad boy attitude rolling off him in droves. This reader is a bit of a sucker for the bad boy.
I loved Shame and Terric as they continued to struggle with control of their Death and Life magic. They need each other, yet they don't like the fact that they need each other. Life and Death can't exist without the other so together they create balance. Shame's magic calls for him to take life. Be it from humans or other living things. Luckily he seems to like taking the life of some evil people in the world. I adore that Shame while he is a smart arse. He is smart arse who plans to stay alive. This series is set in the same world as the Allie Beckstrom universe, which I still haven't read. I'll get there one day. The book was action packed and it kept me entertained throughout.
The Girl Who Played with Fire (Millennium #2) by Stieg Larsson

Read this series! Seriously it is that riveting.
I know, I'm a few years late to this party.
Each twist and turn bringing you to a conclusion that makes your mind boggle as the truth of events throughout the book have unexpected revelations. Lisbeth Salander is compelling. As her backstory is revealed the reader understands more why she is the way she she is. Her actions and behaviour start to make a lot more sense to us. I loved the fact that Mikael Blomkvist believes in Lisbeth's innocence and these two characters create magic on the page together. I don't mean in the happily ever after kind of way. They are both just so mesmerizing on the page. When you are reading about them you want to know what will be uncovered next and how they are going to make it out alive or at least not in jail. Both of them are like dogs with bones in that they will keep going until they uncover the truth. I love this about them. Again action packed. If you haven't read the series, I highly recommend you give it a go.
What books have stood out for you this year?