Wench Review of The Gamblers Series by Lisa Kleypas
These books came highly recommended when Wench Zee told me that I had to read a book by Lisa Kleypas. What can I say except that she has great taste! Plus we both share a weakness for Regency/Historical Romances. There is just something about them that I can't resist. Whether it's the eventual happily ever after or the magnetism of the leading men, I love binge reading historical romances. Lisa Kleypas has wonderful heroes and heroines that you can't help falling in love with. Plus some of her characters wouldn't exactly be called "respectable" by societal standards of their respective settings. At least, not initially. Nevertheless, that just happens to be part of their attraction for this reader.
Not your usual period romance.
So I picked up Then Came you and Dreaming Of You! Click through to see what I thought of The Gamblers!
Then Came You (The Gamblers #1)
Lily Lawson has a secret.
She acts the part of a woman not caring about her reputation or what others think of her. Lily acts heedlessly and the ton seems to marvel at her willingness to do anything. She has a reputation of taking lovers and being up for any challenge. It's all a masterful illusion though.
She lets people think Derek Craven (Sigh, more on him in my second review) who runs a gambling den is her lover. An impression that seems to suit them both for a time. The devil may care attitude really hides a broken heart and the anguish of a woman who is being blackmailed. Complicating Lily's life is one Lord Alex Wolverton who wants to marry Lily's sister. Lily, believing that she has seen Alex's true nature, will do anything to stop this from happening. She knows her sister would be trampled into the dust by Alex's alpha personality. Plus she knows her sister loves another man.
Lily and Alex clash at every turn. Their banter is one of the highlights of the novel. This may have led to an incident of kidnapping. Or more aptly coercion of a family member to draw Lily's prey (Alex) to London. As the sexual tension builds, it's only a matter of time before the chemistry they feel comes to a head.
Lisa Kleypas sure knows how to write a sizzling hot love scene in a genre where oftentimes the sex can be quite repetitive and dull. And while I don't read the books for just the love scenes alone, I always look forward to them. As the blackmailer tightens the noose around Lily, she is finally going to have to rely on someone to help her. I enjoyed Lily and Alex's story, but have to say that book #2
Dreaming of You
was easily my favourite read out of the two book series.
Dreaming of You (The Gamblers #2)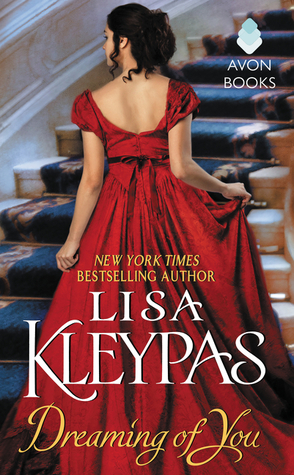 Dreaming of You introduces one Derek Craven to my reading life. Who doesn't love a bad boy? And Derek is as unscrupulous as they come. He's the kind of character you know you should avoid, yet his magnetism draws you in.
Derek Craven will definitely pique your interest.
His mother was a prostitute; he was raised by prostitutes and did whatever it took to survive. By this I do mean whatever was required. His will to triumph has seen him become fabulously wealthy, but guarded. Even though he is wealthy the ton wants nothing to do with him. He doesn't have the right breeding *eye roll*. However, when you are making a lot of your money via gambling, the ton can't help but interact with you and be fascinated by the danger you exude. It also might help that when you run a gambling establishment you find out your client's secrets. What could shake up the world of a man who guards his heart so fervently? Why one author, Sara Fielding, who quite literally stumbles across Derek when she is doing research for her next novel in some of the... murkier streets of London.
Sara sees the world in a very different way to Derek, but that compliments his world weary view perfectly. Plus it's not long before all the staff think Sara is wonderful as well. That doesn't mean she isn't handy to have on hand when a gun is required. She is very resourceful. A handy trait to have if you are associating with the Derek Cravens of the world. As these two characters from very separate worlds are drawn together, you can't help but marvel at how well they suit each other. Like any great romance, love conquers all and our characters have their Happily Ever After. The reader is left satisfied that all is right with our characters future. Even if the ton now finds them irresistible. An absolute must read for fans of the genre, or if you want to venture into the genre.
Wench Rating :
Do you love Lisa Kleypas as much as Zee and I? Any recommendations in the genre you have for us? Let me know below!