Review: Crucible Zero (House Immortal #3) by Devon Monk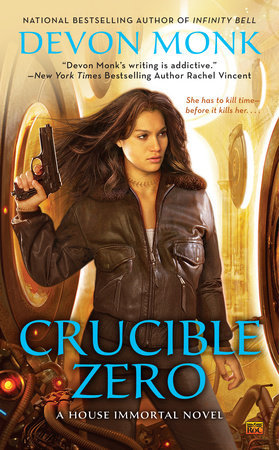 I adore Devon Monk and was so excited to read the conclusion to The House Immortal trilogy. I love trilogies, so thank you Devon for concluding this series on book 3, Crucible Zero.
From Goodreads:

Matilda Case never thought of herself as a hero. But because she is galvanized—and nearly immortal in her stitched, endlessly healing body—she doesn't have much of a choice. Even if she doesn't want to save the world, she's the only one capable of traveling in time to do so.

But her rescue attempt hasn't gone as planned. She's stuck in an alternate universe, and her world is in danger of disappearing. Worst of all, an unfathomably powerful man who can also travel through history doesn't want her to put things to rights. He's willing to wage bloody war to stop Matilda, unless she surrenders control of time to him.

Now, with the minutes ticking, Matilda must make impossible decisions, knowing that one wrong choice will destroy her—and any chance of saving everything she loves..
This book picks up after the OMG ending of Infinity Bell where we were left wondering what had happened to the characters we had grown to love. Had Matilda altered time and if she had; what was the cost? All those she had held dear are dead and we were left with that sinking feeling of how could Matilda fix this and is there any point in continuing on. Was Matilda fixing time or creating a new reality?
I am crazy about the timeway idea. It is brilliant idea and Monk executed it effortlessly. I don't want to disclose what this is, but it will make sense once you read the book!
What I love about Matilda is that she will fight for those she loves, no matter what the cost. You can't stop her. It makes me want to back her all the way. She won't stop until she achieves her goal. Occasionally this might seem a bit pigheaded, but we need this attitude to get things done and save the world. We know she has one goal - To Kill Slater Orange. She'll do whatever it takes. No matter what. We want this too, as we know Slater Orange is a murderous, evil megalomaniac. He wants to control the world and there is only one obstacle in his way. He needs to eliminate Matilda Case.
Don't let the slightly slow start put you off because once the action starts it is guns blazing until the end. You won't want to put the book down. All the plot threads are tightly brought together. Whilst I did think the ending a teeny bit cheesy, it didn't put off how much I was entertained by the series.
If you haven't picked up a Devon Monk series. I can't recommend this one enough or the Broken Magic books. The beauty is both of these series are already completed. Pick them up and just see why I think the author is writing great urban fantasy. This doesn't stop the idea that I want another Broken Magic book though.
Have you read anything by Devon Monk. Do you have a favourite series?