Book Review: Prince of Thorns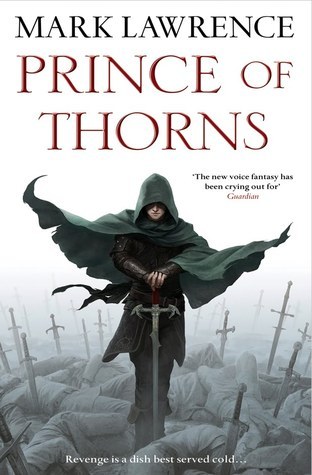 Do you like your fantasy books gritty and full of swords, maces, hammers and death? If so then Mark Lawrence's series The Broken Empire could be the series for you.
It is Lawrence's debut novel and has the added bonus of the whole series being complete. For a debut novel it is a very good piece of fantasy writing. It also has the added bonus of not being overly long as some fantasy books tend to be.
Book #1 is called
Prince of Thorns
and follows Prince Honorous Jorg Ancrath or Brother Jorg for most of the book. He's been running wild over the Broken Empire pretty much raping, pillaging and burning as he goes. It almost seems that he acts in a pretty pointless manner. He's on the cusp of turning fourteen and things are about to get interesting.
So check after the jump about why this fantasy novel is compelling reading. Mild spoilers.
Brother Jorg is really not someone you want to invite around for Sunday lunch. He might just end up dangling you over a cliff or stabbing you with a knife as you reach for a slice of roast meat. He'll get you killed easily and isn't too worried about the body count. By easily, I don't mean you would have a peaceful death. In fact it might be really painful and could involve you innards spilling out. You might say so many deaths are just collateral damage in order to obtain his end goal. Brother Jorg's end goal is to try to be a king, as least at this moment in his life. You might think this is an impossible task, but he's been leading a life on the road for four years. He's learnt a trick or two in that time. It is apparent, for a while that the driving force for Jorg is vengeance. It's the fuel that lights his fire and keeps him warm at night. It dictates his actions and how he plays the game of empire. He wants vengeance for the murder of his mother and his brother. Nothing is considered beyond the scope of what his vengeance is willing to do. If he kills thousands, so be it. He will do whatever he must. At least that's what he thinks.
I can't even say that I liked Jorg as a human being. The strength of the story for me, lay in his narration of the story and I always love a lead character who doesn't have everything go their way. No matter how good Jorg's luck is, it doesn't mean some of those he cares for make it to the end of the book in one piece. I use the word care loosely as Jorg doesn't have time to have real feelings for people. Death is a way of life in the world he inhabits. Was it luck or did Jorg have a master plan for all his actions? He keeps his thoughts close to his chest and often it felt like he didn't have a plan. Sometimes it seemed like he acted like a reckless fourteen year boy, yet there were instances of brilliance in his plans. It felt like he knew he had to act decisively, otherwise his end game would not occur.
I did find the start a bit in your face with the violence. After all we are dealing with a band of "brothers". The
lowest of wandering men who aren't afraid to kill you if you looked at them funny. They are despicable and they are meant to be. Lawrence writes as if you aren't meant to like these men and thus when some of them die you are kind of immune to it in most instances. There are only two men that appear to even have a glimmer of humanity and that is Brother Nuban and Brother Makin. That being said, I still failed to see what they thought was so compelling about Jorg. Was it Nuban's honour that kept him with Jorg? Was it a sense of duty that kept Makin there? Perhaps all will be revealed in time.
In all this the reader has to remember they are reading about a boy of fourteen whose mother and brother were brutally murdered, and feels that his father has done nothing to avenge their deaths. Perhaps after all this explains why Makin and Nuban stick with Jorg. I'm unsure until I've completed the series.
The book was a wild ride from start to finish. While this book is what I would typically call a "boys" fantasy novel, it didn't detract from how much I enjoyed it. You might not like Prince Honorous Jorg Ancrath, but you might well enjoy his story. If you like fantasy with some blood and guts, some action, some twists and turns, than this book is well worth checking out.
I've rated it four kisses, but let me just add that scrumptious isn't exactly the word I would use to describe the book. Perhaps four kisses for being blood thirsty?
Books in order:
Prince of Thorns
King of Thorns
Emperor of Thorns

Have you read Prince of Thorns? What did you think of Brother Jorg?