Werewolves and Vampires and Brothers...Oh My!
March Book Releases
March is a busy month for the Wenches. There are books being released in three much-beloved series. And, in a horrible variation of Sophie's Choice, two of these highly anticipated books are being released on THE SAME DAY!
Speaking of which, Wench Veronica has some strategies for getting through all of these releases, if you are feeling a little overwhelmed.

But, I'm here today to give you a little recap of the previous book in each series and discuss what some of the other Wenches and I are looking forward to with the newest additions. Which books are these, you ask? First is Frost Burned, by Patricia Briggs, releasing on March 7th. This is the seventh book in the lovely Mercy Thompson series. Then, on March 26th, comes our cruel twist of fate: The second in the Night Prince trilogy by Jeaniene Frost, Twice Tempted, and the long-awaited addition to the Black Dagger Brotherhood series, Lover at Last, by J. R. Ward are released.
After the jump, there's a short recap of the previous book in each series and then a little discussion on what we're hoping (and sometimes fervently praying) for in the new installments.
WARNING!!! MASSIVE SPOILERS AHEAD FROM PREVIOUS BOOKS!

Don't say I didn't warn you!
Last Time on.....
River Marked (#6 in the Mercy Thompson series) by Patricia Briggs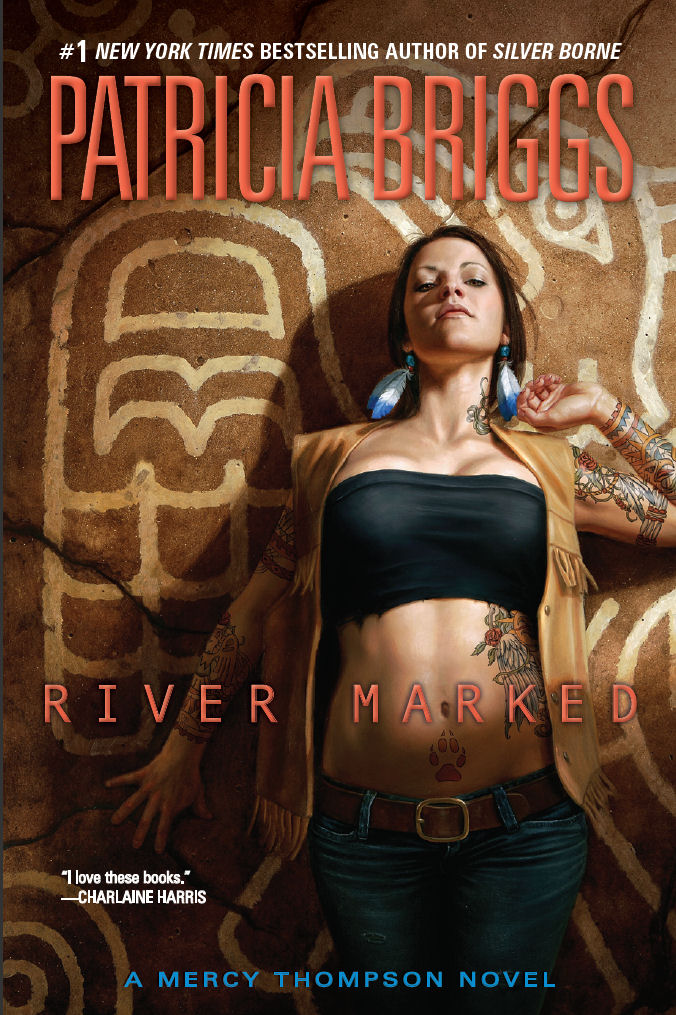 River Marked was a lovely addition to this series, and it started out on a FANTASTIC note. The book opens with Mercy going to pull a depressed Stefan out of his house for movie night at Warren's and Kyle's. After the seethe debacle in Bone Crossed, Stefan hasn't been returning Mercy's calls. So she heads over to drag him out, and finds him neglecting his people and starving himself. After some patented Mercy Thompson sass and sarcasm, he begins to pull himself out of his funk and agrees to join her at movie night. On the way to Warren's, Mercy's mother calls to discuss Mercy's upcoming wedding to Adam. As she is prone to do, her mother is going all out with extravagances and not listening to anything Mercy has to say. After hearing one outlandish idea too many, Mercy decides to ask Adam to elope. He agrees, and they make a quick plan with a pastor, Adam's daughter, Jesse, and two witnesses. But Mercy arrives at the church to find that Jesse and her mother, along some others, plotted to throw them a real wedding. They even had a bet going to see how long it would take Mercy to freak out and decide to elope. In the middle of the reception, Adam whisks Mercy away to a camping trip in a luxury RV, just the two of them for ten days. A healthy dose of quality Adam-and-Mercy time follows, and it is glorious.
After a few days of bliss, the real action starts. First, Mercy has a vision of a man who resembles her father. Then, on a run with Adam, they come across an injured man in a boat. While rescuing him, Mercy is grabbed by what she thinks is just some seaweed. It gives way, but not without leaving a nasty gash in her calf. Then four Native American men appear on the shore near Mercy's campsite looking for their injured friend. After that, things get really mysterious. Something is attacking people in the Columbia River, and these men are trying to determine what it is. Of course, Mercy, being Mercy, can't pass up a good mystery that might help save someone, so she and Adam join the investigation. Throughout the course of the investigation, Mercy learns quite a bit about her past and her Native American father, who, as it turns out, is basically an immortal creature known only as Coyote. We learn that the beast attacking people in the river is a river devil. Mercy and Adam band together with the mysterious men, who turn out to be walkers also, to defeat the river devil. And as always, the plan hinges on Mercy risking her life to save the day.
Once Burned (#1 in the Night Prince series) by Jeaniene Frost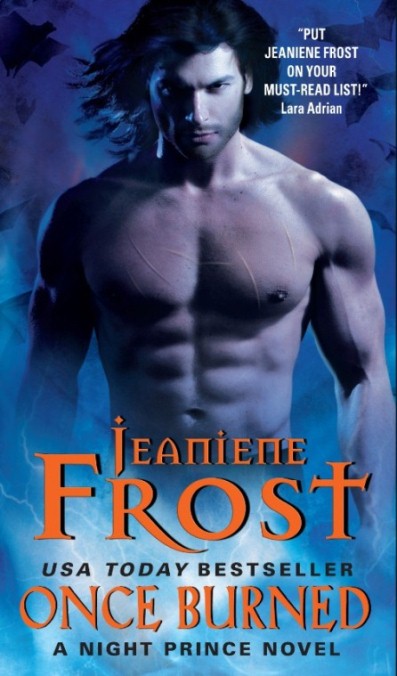 As any of the Wenches can tell you, I love me some Vlad. I even have a Vlad bracelet from a JF book signing. So I was beyond ecstatic for this book, and it did not disappoint. But, Wenches Zee and Beta wrote such a lovely review of this book, that I'm not going to try to eclipse their efforts. I'll just leave the summary of this book to them.
Almost instantly we're thrown into a whirlwind of action. Leila's life changes drastically when an incident occurs that makes her abilities pop up on the wrong radars, and as a result, she is kidnapped by brutal vampires who want to use her powers to find a certain elusive vampire fire starter. But Leila is one smart cookie and finds a way to play a trick on her kidnappers when she uses her special abilities to link herself to Vlad and ask him for help against the baddies who have every intention of killing her once she's served her purpose. And that's when her life becomes more ... adventurous and steaming hot. Meeting Vladislav Basarab Dracul can do that to a person. And Vlad does indeed come to her rescue.

Of course, things aren't so simple; she hasn't counted on Vlad being....well... Vlad! She is instantly attracted to him, and whaddaya know, as fate would have it, Vlad the Fireproof can withstand her touch for as long as she wants. Sex now, please! Just kidding. We loved the development in this; in fact, we could have used more development. There's just something about having journeys (in book series) drawn out a little. What can we say, we're masochistic Wenches! But it would be a big fat lie if we said we weren't thinking SEX SEX SEX once Leila got this little snippet from the future:


The gothic hall vanished, replaced by the hazy cocoon of midnight-green drapes encircling the bed I was on. I wound my hand into the thick fabric while a moan left my lips, sharpening into a cry at the incredible pleasure shooting through me. My grip on the drapes tightened as I writhed under the erotic combination of wet, deep strokes and lightly chafing stubble against my most sensitive flesh. "Please," I gasped. Vlad lifted his head, his hair like dark silk against my thighs and his gaze lit up with emerald. "No," he said throatily. "More." And he lowered his mouth again.






Vlad and Leila must work together to find the person who wants Vlad dead, and also has it out for Leila, which is why it turns out to be in her best interests to help Vlad out. While staying with Vlad she learns more about herself and her powers. He helps her to face her issues, and her family at times. The story is well paced and there is hardly a dull moment. We get to see old friends make a brief appearance when Mencheres, Kira, Cat, and Bones pay Vlad a little visit. While delivering a dark and suspenseful story, Frost never leaves out the humor. It's bound to make you laugh, and as always, she gives us intriguing side characters. We're already completely in lust with Maximus and kinda hoping we get a novella. (Pretty please Ms.Frost!)





The antagonist in this book is, duh, someone from Vlad's long past that he thought he had already disposed of. Who is also out to get Leila, and involved her in the world of vampires to start with.
I told you I can't compare to their amazing description. Suffice it to say, we love Vlad around here.
Lover Reborn (#10 in the Black Dagger Brotherhood series) by J. R. Ward
I met the Brothers just before this book came out. Wench Amanda and I attended last year's Romantic Times Booklovers Convention in Chicago, and J. R. Ward was scheduled to appear, so I thought I should catch up on these. This book's HEA is Tohrment and No'One, aka Autumn. So first, a little background on their complicated past.
When Tohr was young and under Darius's care, they came to the rescue of a female who was being held captive and raped by a sympath. After attempting to bring her back to her family, they discovered she was pregnant. So the two men cared for her during the pregnancy, and she gave birth to a baby girl, whom Darius named Xhexania (aka Xhex, aka John's shellan). Distraught that her baby would be branded a sympath, the woman committed suicide, much to Torhment's dismay. But, the Scribe Virgin gave her another chance to atone for her sins, and she became a servant to the Chosen. She took the name No'One and followed Payne to our world as her servant, where she was reunited with Tohr and Xhex, to her dismay.
As I said, it's a complicated past. Let's fast forward to this book. Tohr, still grieving for his beloved Wellsie, is killing himself slowly with alcohol and reckless behavior. No'One is trying to find her place in this world. She convinces the doggen to let her help with the chores, and she and Xhex are muddling through the beginnings of a relationship. Then Tohr finds out that Wellsie and their son are stuck in a sort of purgatory, because he is still holding on to them. Lassiter tells him that his purpose is to help Tohr move on from Wellsie, so she can move on to the Fade (heaven) before it's too late, before she is trapped forever in purgatory. Tohr soon discovers he is having feelings for No'One, and she for him, despite her vow to never feel that way about any man. As the story progresses, they enter into a hesitant relationship that, inevitably, gets screwed up by both of their haunted pasts. As is the way of the Warden's books, they overcome their obstacles and live happily ever after, while having tons of really hot sex.
There are a few other story lines in this book besides Tohr and No'One. Let's go over those real quick. Xcor and his Band of Bastards hatch a plot to overthrow Wrath and the brothers. Meanwhile, Layla falls for Xcor and Throe falls for Layla. Hijinks ensue.
John and Xhex have still more issues in this book. Xhex is fighting side by side with the Brothers, and John doesn't like it. The bonded mate in him occasionally takes control and is furious that she is putting herself in danger night after night. Xhex, of course, finds this totally unacceptable. Things get so bad that Xhex moves out of the compound for a while. But they are bonded, of course, and things work out in the end. For now.

Qhuinn and Blay continue their delicate dance around their feelings for one another. Blay seems to be at least fooling himself into thinking he's happy with Saxton, while Qhuinn pretty much broods through most of the book. He and Layla have struck up a friendship of sorts. He has been teaching her the ways of the modern world. Then the event that rocked fangirls around the world occurs.
Layla has her Needing. And Qhuinn, being the messed-up friend he is, decides that he is going to....service Layla during this time, to help her get through it. And in doing so, breaks the hearts of Qhuay fangirls everywhere. We'll see soon enough how the Warden brings this back around, and hopefully a certain Wench I know can stop harboring such a burning hatred for Layla.
Next time on......
And now, we've come to the hopes-and-dreams segment, where I'll speculate about what some of the other Wenches and I are hoping for in these newest installments.
Frost Burned (#7 in the Mercy Thompson series) by Patricia Briggs
Basically, all any of us want from this series is more Mercy and Adam! Only a few Wenches have read the series: Barbara, Shau, and I are it, I believe. First, what did the Shau have to say?
Shau:
OMG...I CAN'T WAIT FOR Frost Burned!! I'm expecting to see more of their relationship. They are an amazing couple, and I love the way they have with each other. It's one of my favorite book relationships. Also, I hope we see them grow as a couple rather than the whole take-me-leave-me that some books have.

As for me, now that they are married, I want to see them adapting to living together and meshing their lives into one, especially Mercy. She is a stubborn one, and adapting to someone else's rhythm is tough. And, of course, I want some Mercy/Adam sexy-time scenes. I'd like to see more of my favorite side characters, Jesse, Warren and Kyle, and most of all, Ben. Yes, this misogynistic former slimeball has wormed his way into my non-leading-man-loving heart. I also would like to see more of Stefan. I want to make sure he is getting better and taking care of his people again. I'm also interested in finding out whether Patricia Briggs brings any other culture's mythology into the story. We've had German, Celtic, and Native American so far. What else can she bring to Mercy's story?
Twice Tempted (#2 in the Night Prince series) by Jeaniene Frost
Ms. Frost's characters are big-time favorites among the Wenches, Bones and Cat especially. But there are several of us who adore Vlad and couldn't wait to meet the girl who could tame our Prince. I couldn't love Vlad more if I tried, and after only one chapter, I was in love with Leila too. She is so feisty and stubborn, and as a former gymnast myself, I really connected with her right away. Then she did something I've always wanted a heroine to do. She admitted both to herself and to Vlad that she was attracted to him. Maybe I'm just sluttier than most of our heroines, but when they desperately try to deny their attraction to the hero (or anti-hero), I want to yell at them to just sleep with him so they can sort out their other feelings. When Leila did just that, I was ecstatic!

So, what are the other Wenches looking forward to....
Shau:
For Leila to drive Vald crazy and make him work for it. ;D
Zee:
I want, no NEED, to know what is up with Leila's powers disappearing at the end of OB. And VLAD! MORE VLAD! LOTS AND LOTS OF SEXY VLAD! Thanks. Oh and Maximus!! I want more Maximus.
Kathi:
I expect to savor the moment(s) when Vlad figures out he loves Leila. Since JF has now committed to a trilogy, I'm probably going to have to wait awhile longer, but I trust JF to make it worth the wait and keep me entertained along the way.
Beta:
Zee mentioned exactly, on all accounts, what I'm waiting for and looking forward to! And the thing I would have added is what Kathi already said... I'm looking forward to the moment(s) when Vlad realizes that he does actually love her and admits it. That might not happen in TT, and that's okay. I can wait, and boy, do I expect to swoon and sigh!
What I want in Twice Tempted is more of Leila putting Vlad in his place and standing up to him. He needs someone to tell him no. And like Zee, I need to know what is going on with her powers. Are Vlad's powers affecting them? Did that last burst of use just drain her too much? Will Vlad admit to both himself and Leila that he is falling in love with her? What kind of shenanigans will they get into this time around? And most importantly, will Leila have an extended lifetime, like Denise, or will Vlad convince her to turn vampire? I don't think Vlad will take the chance of giving his heart away to someone with a regular, human lifespan.
Lover at Last (#11 in the Black Dagger Brotherhood series) by J. R. Ward
I think most of the Wenches' thoughts on this book can be summed up in three words:

This couple has been a long time coming. For a long time, the fandom didn't think they would get their own book. They would be relegated to side characters or at the most get a novella, like the followup to Bella's and Zsadist's story. Then the Warden announced that not only would their story be told, it would be in their own, full-length book! So the speculation around here has run rampant about what is going to take place in this installment.
Veronica:
I'd like to know what's up with Saxton. Seems he knows how Blay feels about Qhuinn. And vice versa. So how does he feel about Blay? Fond affection? Is this relationship just a diversionary past-time for him? Something more? What role is Saxton going to play in the next book — supportive of Qhuay or an obstacle? That's what I'm looking forward to discovering.
Zee:
I'm really curious as to what J. R. Ward has in store for Layla. With the baby and that Xcor. I just want her to be happy and stop being the Qhuay third wheel.
Amanda:
Who will bottom first! (That Amanda, she's got a dirty mind!) Also, everything Veronica said about Saxton. I'm curious as to what his future holds when he's no longer with Blay. I really hope Ward doesn't kill him off.
Angela:
Agree regarding Saxton. I think I'm going to feel very sorry for him by the end of the book. I'm interested to see how JRW will make it acceptable to me that Qhuinn and Layla slept together, and how this can lead to Blay being okay with it.
Kathi:
I'll be glad to see Qhuinn and Blay finally act upon their true feelings and let their relationship progress, but I'm a little worried about Saxton (who hasn't really done anything to deserve getting dumped, IMO, except be with the wrong person) and especially Layla. I am anxious to see Layla get her own HEA, as I think she definitely has put up with enough crap in her life and been a good enough person to deserve to settle down with a true love.

For me, like several of the girls, I want to know how the Layla/Qhuinn baby situation will be resolved. Will she give the baby to Qhuinn and Blay to raise? What will she do? Will she run off with Xcor? What happens to Saxton? Will he move out? What's going to happen next with the Band of Bastards? Will anyone else have their needing in the compound? Nala can't be the only baby forever, low birth rates be damned. She needs a playmate!

But, most importantly, will the boys get to have a mating ceremony? Does this world allow a male to bond with another male? Will we get a bonding scent?
So, fair readers, are you looking forward to these releases as much as we are? Is there some other aspect of these stories that you are excited or curious about? Are you looking forward to another release that we missed? Sound off below, and happy reading!
*all GIFs come from Tumblr