What the Wenches Are Reading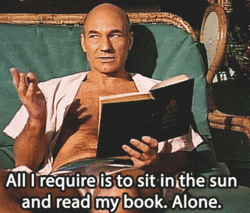 Click through to see what we're reading this week!
Angela: I'm hoping Zee won't disown me this week. I read Smoke and Mirrors: Short Fiction and Illusions by Neil Gaiman and I didn't really like it. I felt like I was totally the wrong audience for the stories. Perhaps if I were male and in my twenties, it might have been a different story. Then I carried on with the fantastic Cork O'Connor series by reading both Mercy Falls (#5) and Copper River (#6) by William Kent Krueger. This contemporary mystery series continues to delight me, and while the ending of Mercy Falls was a bit implausible, it hasn't dampened my delight with this book series.
Anne: I'm currently reading Wildfire, #3 in the Hidden Legacy series. I love Nevada and Rogan so much. All of the Baylor family, really. I finally finished listening to Order of the Phoenix and I've moved on to Night Broken by Patricia Briggs.
Barb: I decided that I needed some deep dark reads to make be feel better about my own craziness and the dumpster fire that is our world today, so I gathered some choices and got to work. I started with a book Zee didn't exactly recommend, but needed to talk about, The Siren by Tiffay Reisz. I told you how I felt about that one here. Then I picked up the Beauty series by Skye Warren, mostly because I am a sucker for a Beauty and the Beast tale. This one is a super smutty, sweet telling of the story, mostly devoid of the darkness I was looking for. Which is totally fine. It's a fun diversion. Next I'm going to give another Skye Warren title a try, this one described as much darker and dubious.
Donna: I finished Madeleine L'Engle's beloved A Wrinkle in Time this week. Meg, the thirteen year old, heroine is smart and brave, but doubts herself. She, her genius brother Charles Wallace and new school friend Calvin are whisked away to another world to rescue her father. They face many challenges and dangers as they use their talents and cunning to defeat the forces of evil. I only wish I had discovered this book when I was younger.
Kathi: This week I followed up The Rose Garden with Mariana, another Susanna Kearsley historical "time travel" story that perfectly suited my longing to escape into romantic sagas with dashing heroes and sweeping landscapes. Then, in search of a book set in a land I hadn't read about and based on Barb's rave review, I picked up Mists of the Serengeti. Another perfect choice, an achingly beautiful romantic saga set in Tanzania in the shadow of Mt. Kilimanjaro. I'll definitely be picking up more books by Leylah Attar! In the meantime, some very interesting new books are coming out now, and my inability to concentrate seems cured, so I am excited to check them out!
Merit: I've been rereading A Court of Mist and Fury, the spectacular sequel to Sarah J. Maas's A Court of Thorns and Roses. I just love, love , love SJM's mind and writing style, the worlds she builds here, the depth of the characters, swoon worthy and full of powers. I reacquainted myself with the whirlwind of people, human and nonhuman, and events in this book, and now I'm more than ready for book three, A Court of Wings and Ruin.
Shau: I've been re-reading Crocodile at the Sandbank by Elizabeth Peters and I'm reminded anew why I freakin' love this book. Soooooo funny and interesting. Amelia Peabody is my spirit animal.
Zee: I've been reading the few Agatha Christie novels I hadn't read, starting with Nemesis. Which I figured out half way so wasn't quite as fun. Then reread Alisha Rai's Gentleman in the Street. Akira is the best. Now wondering what to read next.