Our Top Ten Books to Date in 2016
What books have rocked our boat in 2016? There are always much anticipated new releases for us, and this year has been no exception. We've had some great new reads in 2016. So let's look through our list to see what has enthralled us so far. I wonder if they'll still be in our top ten come the end of the year, as I know there are still a couple of new releases that I'm looking forward to. I'm sure that's true for other Wenches, too.
Fire Touched (Mercy Thompson #9) by Patricia Briggs
One of Anne's favourites in 2016 has been Fire Touched. An urban fantasy series that is still going strong after book 9. Urban fantasy doesn't get much better than this, and our love for Mercy is as strong as ever.
From Anne's Review, "
They are like meeting up with an old friend after a long separation. You just pick up right where you left off and it's like you were never apart. I love my time catching up with Mercy, Adam, Jesse, and the rest of the pack."
This is one of Barb's favourite reads so far in 2016. It's a dark romance set against a mafia background. Barb was kept up until the wee hours of the morning as she devoured all three books. The final book Target on Our Backs was released this year. What better recommendation can there be than that! An excerpt from Barb's review:
From Barb's Review, "Monster In His Eyes checked all of my boxes and then some. A wonderful love, a fascinating story full of ups and downs that kept me riveted, delightful side characters, both good guys and bad, plot points that kept me guessing and characters I couldn't quite figure out, and a mafia theme tying it all together."
What a delightful find this book was. Jane Steele, murderess, likes to draw comparisons from her own life with one well known literary character called Jane Eyre. Jane Steele decides to write her memoirs after being inspired by Jane Eyre. For the large portion of the book, the reader wasn't quite sure if they actually liked Jane. However her world changes once she enters the employ of Charles Thornfield and his intriguing house of Sikh employees. Employees that seem to be very handy with weapons. Plus the reveals at the end fit perfectly into place with events that have occurred previously. A great read for anyone who likes historical murder fiction.
From Kathi's Review, "
Though I loved Jane Eyre in my youth, I've grown weary of long-suffering heroines who hide in dark manses waiting for men to usher them out into the world. What a treat to meet a version with more modern sensibilities and the brazen audacity to better put her remarkable brain to work!"
When Falcons Fall (Sebastian St Cyr #11) by C.S Harris
If you want to read a book by the master of historical mysteries, then look no further than C.S. Harris. When Falcons Fall is a fantastic entry into an already stunning series. C.S. Harris's wonderful atmospheric writing keeps the reader gripped as we try to figure out, along with Sebastian, who the murderer is. If you haven't started this series, consider giving What Angels Fear a try. This series is a must for historical mystery fans.
From Angela's Review, "It's the little details that Harris gets right. From the tree scraping on the window to a hand even in death moving with the flow of the river. Harris is able to pull me into the story so that I feel I'm really walking the paths of rural England."
Feverborn (Fever #8) by Karen M. Moning
We are massive Karen M. Moning fans around here, and Feverborn was one of our most highly anticipated releases this year. Plus some lucky Wenches met up in New Orleans for the Feverborn release. The book was everything and more that the Wenches wanted. Moning knows how to take her readers on an emotional roller coaster ride. As usual we wanted more and can't wait for the next book to be out. Another wonderful urban fantasy read.
From Zee's Review, "Feverborn picks up right where it left off, and we start with a new .. and ominous POV. GAH! Karen is so amazing. She has an entire universe in her brilliant mind and I just LOVE it when she slowly reveals new stuff that you just know is going to BLOW.YOUR.MIND later on in the story."
Midnight Marked (Chicagoland Vampires #12) by Chloe Neill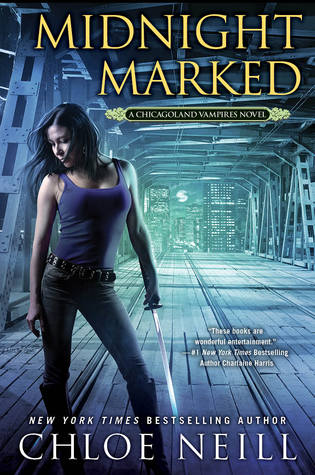 The penultimate book in the series, Midnight Marked is still as strong as it's predecessors. The Wench fans of this series are sad it's soon to come to an end, but they can't stop gushing about how much they loved Midnight Marked. Urban fantasy at it's finest.
From Barb's Review,
"...this book fulfilled at least four of our Chicagoland wishes. As I was reading, I repeatedly had to stop and scream my joy or set the book down because something happened that I, or one of my friends, have been hoping for for ages."
Station Eleven offers a fascinating vision of post-apocalyptic America in the aftermath of a virus wiping out most of the world's population. It's not sci-fi or fantasy or action packed, and it took Kathi a while to switch mental gears and appreciate its elegance — in other words, it's for your more thoughtful reading moods. Station Eleven explores people and relationships, it jumps around in time a lot to key events during and after the virus, to weave together the threads connecting the lives of seemingly random characters struggling to survive and rebuild. One of the main characters, Kirsten, travels with a caravan of Shakespearean actors and musicians through the communities scattered about the countryside. A line from Star Trek tattooed on her arm reminds us of a central theme: Because survival is insufficient.
From Goodreads,
"Spanning decades, moving back and forth in time, and vividly depicting life before and after the pandemic, this suspenseful, elegiac novel is rife with beauty. As Arthur falls in and out of love, as Jeevan watches the newscasters say their final good-byes, and as Kirsten finds herself caught in the crosshairs of the prophet, we see the strange twists of fate that connect them all. A novel of art, memory, and ambition, Station Eleven tells a story about the relationships that sustain us, the ephemeral nature of fame, and the beauty of the world as we know it."
Be My Fantasy / Stay My Fantasy (Fantasy Series) by Alisha Rai
As Barb said
"What needs to be said, really? It's Alisha Rai. It's a perfect book. Sweet, well structured, and so hot."
From Goodreads, "
When she was bad, she was better.
Elizabeth Harding, the perfect, polished daughter of politicians, plays by all the rules. Or so it seems. Tired of a lifetime of denying her passionate nature, she's created an alter ego. As Tess, Elizabeth is able to safely and secretly indulge all of her wild fantasies—even if that fantasy is financing a private club of pleasure.

Driven and ambitious, Luca Santos has clawed his way from rags to riches. His boss's daughter has tempted him for what seems like forever, but he's known that the pampered princess probably wouldn't be down with his dirty ways. Elizabeth is sweet, innocent, demure…so what's she doing sneaking around a place that revels in sexual abandon?

One night. So many ways to ruin a person."
The Visitor (Graveyard Queen #4) by Amanda Stevens.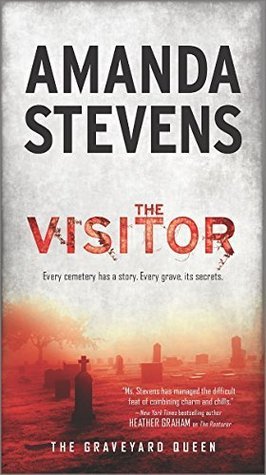 Graveyard Queen series by Amanda Stevens is one of those series you wish everyone would give a chance to. Once again, we are drawn into Amelia Gray's world and all is not as it seems. There are secrets to be uncovered and a fragile relationship with Devlin to try to hold together. The danger to Amelia increases as more secrets from her family's past are uncovered. Gripping paranormal mystery series that just gets better and better.
From Angela's Review,
" This series is one of those gems that you wish more people were reading. It provides that kind of tension that ensnares the reader so they don't know what is going to happen next. Often I was waiting with bated breath to see what would happen."
The Last Star (The Fifth Wave #3) by Rick Yancey
The Last Star, the wrapup to the 5th Wave series, was compelling, emotional, intriguing, and satisfying. It was a very well done ending to a well done series. A review of the series, as a whole, will be forthcoming.
From Goodreads,
They're down here, they're up there, they're nowhere. They want the Earth, they want us to have it. They came to wipe us out, they came to save us.

But beneath these riddles lies one truth: Cassie has been betrayed. So has Ringer. Zombie. Nugget. And all 7.5 billion people who used to live on our planet. Betrayed first by the Others, and now by ourselves.

In these last days, Earth's remaining survivors will need to decide what's more important: saving themselves...or saving what makes us human.
Conclusion
As usual it's a varied bunch of books that we have enjoyed. From urban fantasy, erotica, mystery to science fiction. We can't wait to see what the rest of 2016 has in store for us.
We have loved this list of books so far in 2016. What new releases have you discovered in 2016 that have stood out from the rest?