Fangirl Friday - 6 Authors I Adore That You May Not Have Heard Of
I thought what better idea for a Fangirl Friday than to fangirl over some of my favourite lesser known authors. By lesser known, I mean authors that you may not have heard of and I wouldn't have either if it wasn't for my wonderful book reading friends. These are all authors that have delighted me in various ways. If you haven't read any of these author's work than I can't recommend highly enough that you give them a try. Whether it's urban fantasy, fantasy, mystery or romance. I hope that if you are looking for something new to read that one of these authors might just tick that box for you. Let's check them out.
Devon Monk
Devon's most well known series is Allie Beckstrom which I haven't even read yet, but it's high on my to be read list. That might make you wonder why I think Monk's work is fantastic reading. I have read the Broken Magic spin offs (which can be read as a standalone series) and House Immortal. The talent that I really enjoy about Monk's work is her ability to world build. Whether it's the stitched inhabitants of House Immortal or Shame in Broken Magic series seeming recklessness with magic and it's consequences. Each step within the books draws me in further into the action and increases the love I feel for the characters. Plus Monk puts in enough twists and turns and she ain't afraid to kill people off either, that I'm riveted. As readers of my other posts are aware, for some reason, I love authors that don't mind getting you attached to characters and then completely eliminating them from a series.
I recommend Devon Monk if you want to read great world building and love some action in your fantasy books. It's originality is also a big plus for me.
Website www.devonmonk.com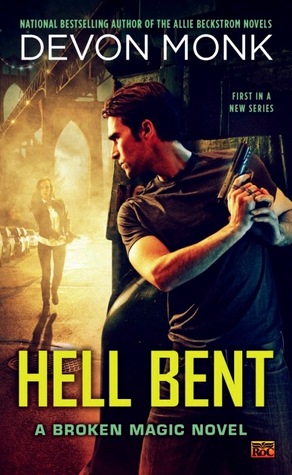 Series:
Allie Beckstrom (on my TBR)
Age of Steam (on my TBR)
Broken Magic
House Immortal
Carolyn Crane
She wrote a trilogy. Enough said. Well not quite. I love a good trilogy. Give me three books in total and I'm one happy camper. The Disillusionists by Carolyn Crane has it all. When I first read the series I was surprised how much I loved it. I think one of the main attractions for this urban fantasy was that there wasn't a werewolf, witch or vampire in site and I loved that. Too often urban fantasy, for me, falls into the same old, same old category and I feel like I'm reading the same book, just that the character's names have changed. The heroine Justine Jones growth throughout the series sucked me in. I was backing her to make it out the other side of the series. Crane also wrote wonderful side characters that complimented the overall story arch.
I recommend this series if you want something fresh, but still love a supernatural angle in the books you read. For my love triangle adverse readers, um maybe this one isn't for you.
Website: www.authorcarolyncrane.com
















Series
The Disillusionists
The Associates (I haven't read this yet, but I will)
Code of Shadows ( This is on my TBR as well)
Jordan Castillo Price
What can I say, except in urban fantasy, a sprinkling of horror and paranormal, Price definitely writes the type of book I want to read. I was first introduced to the books via looking for new m/m authors a couple of years ago. Don't let the fact her books often get lumped in the m/m genre put you off giving them a try. I think they are so much more than that and can compete with any of the best paranormal work out there.
The artwork covers alone for the books are a thing of beauty. Each one always fits the characters in her stories so well.
Psycops
is the series that seems to get readers hook on Jordan's work. Who doesn't love a bumbling cop whose name is Vic who can see dead people? The bonus is those dead people love to talk to him. That's just where the fun starts to happen.
Psycops
is a series and you get hooked from Book 1
Amongst the Living
.
Also if you aren't in a series mood then book Meatworks might just up your alley. Sci fi robotics and a lead character that you actually aren't sure why you like them, but you do.
I recommend Jordan Castillo Price if you want to be a little bit freaked out. Seriously seeing dead people isn't comforting and robotics in Meatworks just makes me want to move to a self sustained, self sufficient cabin in the middle of nowhere. Check out the blogs review of Meatworks here.
Website:
www.jordancastilloprice.com
Series
Psycops
Channeling Morpheus / Sweet Oblivion
Turbulence
Mnevermind
Check out Jordan's standalones and shorts on her website.
Amanda Stevens
Amanda Stevens first came to my notice when some of my Goodreads friends were giving the series Graveyard Queen high ratings. As I trust their judgement, I had to dive right in. It wasn't the latest buzz book, but it captured my attention. Amelia Gray is a grave restorer. That's right. She restores graveyards. It's not as weird as it sounds if you've ever wander through a really old graveyard and seen how intricate some of the headstones are, it would take a specialist to fix them. Amelia has an ability. Wait for it........ she can see ghosts. (Sorry Vic from Psycops you aren't the only one.) It's a freaky ability to have, but Amelia's Papa teaches her how to deal with this. Murder and John Devlin arrive on the scene and Amelia's world is turned upside down and the rules she lives by are turned on their head.
Never acknowledge the dead

Never stray far from hallowed ground

Never associate with those who are haunted

Never, ever tempt fate.
The books have a slightly creepy undertone which compelled me to read further. Not creepy enough to have me checking under the bed for ghosts. Which is a bonus. I assure you. Again, no supernatural werewolves, vampires or fairies. However you need to be careful of the ghosts. They want to suck your life force away. Stevens ability to make her lead character Amelia tackle problems head on, even though we know she is quaking in her boots makes the reader want to back our heroine to overcome the rules she lives by and along the way solve the murders.
I recommend this series for anyone who loves ghosts stories and a heroine who fights for what is right. For my full review on the series click here.
Website: www.amandastevens.com
Series
Graveyard Queen
C.S. Harris
I'm not much of a mystery reader, yet when C.S. Harris was recommended to me, I though okay, I'll give this try. It might have helped that one of my Goodreads friends judgment which 9 times out of 10 is correct for me adores the Sebastian St Cyr series. There is already 10 books in total with more on the way. This is one of the very few series for me, which hasn't gone stale after book 5 or 6. The beautiful thing for me with C.S. Harris is how vividly she is able to bring Regency England to life for me. If I close my eyes I can picture the streets of London as it was. Bonus points too, is that Harris always has author notes, which help to delve just that little bit deeper into her novels.
Plus C.S. Harris, I need to know the truth about Sebastian's mother. Pretty please, with a ribbon on top. I'm very hopeful that Book #11 might just answer this question for me.
I recommend this series if you want to read something where darn it, you can never guess who the murderer is. I'm good at picking murderers in books too, so no wonder I can't put these books down. Check out my series review here.
Website:
www.csharris.net
Series
Sebastian St Cyr
C.S. Graham thrillers.
Sean Kennedy
Sports romances. I'm a sucker for them. Chuck a hot, ripped sportsman in the mix and I want to read the book. I don't know why. I'm one of the least sporty people you are likely to meet. Maybe I'm living through the characters some how. Tigers and Devils and Tigerland are two of my all time favourite romances. Yes they are m/m, but don't let that put you off. They can cut it with the best and Simon is just a character whose POV makes me want to read more. Plus I like that both characters have their own lives and ambitions. Kennedy is also able to make me connect with the city of Melbourne, Australia. Whilst I live across the ditch in New Zealand, the love of AFL (Australian Football League) clearly shines through. One of my friends is also now an avid supporter of the Tigers!!!!!
I recommend Sean Kennedy for some great sports romance. Don't be put off because the sex happens off page. I promise you the series is worth it. It's probably my all time favourite romance book. And that's saying a lot considering the amount of Regency romances I've gorged myself on.
Website:
www.seankennedybooks.com
Books
Tigers and Devils
Tigerland
Summary
Six authors whose books I adore. If you haven't heard of any of them, I think they are all great and deserve checking out. Sure I haven't read all the authors work for any of these authors, but what I have read has kept me highly entertained. Plus I always have the delight of still discovering what else the authors have written. Each of these authors work has appealed to me in difference ways and we each have those authors we wish our friends would read. Maybe our friends don't always like the same things as we do, but I'm hoping one of these authors books might strike a chord with you.
Have you read any of these authors? What lesser know authors have you enjoyed?