Fangirl Friday - The Malazan Book of the Fallen through 2 books and 3 novellas
www.goodreads.com
www.goodreads.com
I never thought I would said it. I may just have found the series that will replace A Song of Ice and Fire as my number one fantasy series. It feels slightly blasphemous to even say those words. As you may well know I've raved about A Song of Ice and Fire for years and years. I've yelped in delight when a friend has picked up the series and loved it as much as me. Forget what I've told you previously. You need to be reading the The Malazan Book of the Fallen by Steven Erikson. You need to give it a chance and just see how truly terrific fantasy is written. It's blown me away and I'm only two books into the series.
It almost feels like I'm cheating by admitting that The Malazan Book of the Fallen series is better than A Song of Ice and Fire, but you will soon see how it's captivated this reader. Come with me after the jump to see how to prepare yourself for the awesomeness which is Malazan. I warn you, once you enter this world there is no going back!
Let's get you ready to head into the Malazan Empire.
Step 1. Put on your running shoes. If you don't own running shoes you'll be running barefoot. Trust me you are going to need them.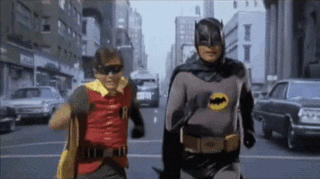 You might need to run faster than Batman and Robin.
Erikson chucks you into the Malazan Empire and you might not even have time to tie your shoelaces and pick up the pace. You don't want to be left behind. Make sure you double knot your shoelaces. Otherwise the odds of you keeping up with the story start to fade. Erikson doesn't worry about giving you 300 pages of back story. You are thrust into the story and expected to figure out events as you go. Characters previous experiences sometimes come forth, but it's rare and the connections between characters might just leave you scratching your head. Because nine times out of ten you probably never suspected there was a connection. Never fear, if you feel like you are drowning in a sea of information. Slowly a larger pictures builds and you will find yourself nodding, "Ah, so that's why that happened".



Step 2. Learn Malazan geography.
Maps people! We are talking epic world building. Continents, different nationalities, ethnicities, landscapes and monuments. This is an empire. The Malazan Empire that wants to take over the world. Trouble is you can't take over the world without infuriating someone. The sheer scope of this world is mind boggling. I've read both Gardens of the Moon & Deadhouse Gates, and each book is so uniquely different. Don't worry, you'll become familiar with the word Genabackis. It's here that Erikson's archaeological and anthropological background comes into play. It's the intricacy and imagination of this world that truly sets this series apart from anything else I've read. As you are reading you can sense how in depth Erikson has created each unique culture and environment. I'm a bit of a geography nerd anyway and the fact that Erikson creates so many unique landscapes really appeals to my inner knowledge gatherer instinct. Yes, I'm that person that if I don't know a random fact, I like to find it out.



Step 3. Get some popcorn. The anticipation may very well cause you to start biting your nails.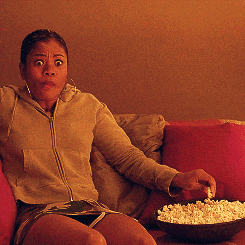 Yes, the books are compelling and hard to put down.
Complexity of characters. There is such a wide cast of characters that you are going to find someone to back. Whether it's Whiskeyjack and his Bridgeburners or Crokus or Tattersail This is a place where the vast majority of characters are playing a larger game and Erikson either skilfully reveals details on a need to know basis or he leaves it to the reader to figure out. Keep your wits about you. You never really know what is going on entirely. This is one of the true pleasures of this series to date. The author seems to respect that his readers can work out some parts of the story themselves. Meanwhile he's probably busy planning to kill your favourite character in a later book. Don't get too attached to anyone. They may very well end up dying in a bloody battle or escaping death but not quite being as they were before.
The scale of characters is mind blowing. There are plenty of resources online to help you keep track of each character. Tor has a great
A Beginner's Guide to Malazan Characters.
You are going to love discovering all the new characters. My personal favourite character to date is
Whiskeyjack
, though there are plenty of other characters that come in a close second. Especially when you turn the last pages of
Deadhouse Gates
.
Deadhouse Gates
kind of wrecked me as I was drawn into
Coltaine's
world and the fight for survival as the forces of the Whirlwind nipped at their heels. I can only imagine how engrossing future books will be. No doubt I'm going to meet new characters that I'll love reading about.
Step 4. Learn some weaponry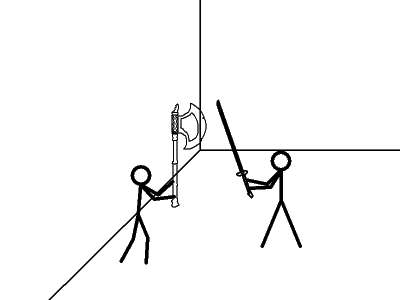 Appeals to my level of artistry.
Look you want to survive in this
Malazan
world? You're going to need to learn how to use a weapon. A sword would be fantastic, or discover a Warren (magical ability) you never
realised
you had. Maybe you could become a sapper. They love blowing things up. Vital in times of war. This could make you very handy in the
Bridgeburners
or any troop that wants to have you. You are also going to need a cunning, devious mind.
Everyone's
seems to be trying to kill just about everyone else and you need to stay one step ahead of the game. Largely
Malazan
is a world of war, destruction and domination.
Step 5.Keep a notebook handy. Some readers like to take notes!
It was recommended to me to read the fantastic chapter notes that are available at
Tor
I decided not too. It's a personal preference, as I do enjoy trying to figure character motivations out for myself. That's just me, perhaps you might be different when you take up the challenge to give The Malazan Book of the Fallen an attempt. For me the joy of a reread is discovering new things about your favourite characters. Plus I figure, surely an author hasn't written a book where he isn't going to give you some clues as to what is taking place. Hopefully by the time I get up to date with the series anyway.
Step 6. Have some tissues handy. Or alcohol.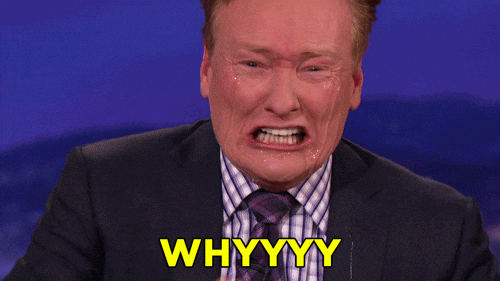 I may have felt like this a couple times to date in the series.
You might find yourself busy reading away. Absorbed in the story. Then bam!!! Death of a character you've just spent 500 pages backing. Yes, you really thought that character might make it out of this adventure alive. Not necessarily in one piece, but definitely alive. Perhaps minus a limb or a few scars. Readers, it's not going to happen. Erikson is very likely to kill them. Or if not kill them, they may now be reincarnated as a baby. I'm not kidding. No doubt the reader is now not going to see that character for 6 books. Deadhouse Gates may very well make you feel that a stiff drink or two will be called for. Especially that ending. It tore me apart a little and I couldn't get into reading anything else for a few weeks afterward.
Give The Malazan Book of the Fallen a Go!
However you read Malazan, remember you are going to be in for one hell of a ride. There is a lot to take in. A lot to discover and plenty of adventure on the way. If you love multiple point of view fantasy. Wide sweeping world building, then this series might just be the one for you. I'm off to read Memories of Ice (The Malazan Book of the Fallen #3) in April and I can't wait to see what happens next. I think you might just be read to tackle the series. Remember, shoes, geography, popcorn, weapons and tissues. You are set to go and can handle anything that awaits!
gifs are from www.giphy.com
Have you delved into the Malazan world? If so what's your favourite book to date?